Bridge Howto
Voer de volgende stappen uit om een bridge te configureren:
Configureer /etc/network/network.up.bridge:

Kopieer eventueel de regel met "addif" erin, wanneer u meerdere interfaces aan de bridge wilt toevoegen.(In dit geval zijn eth0 en eth1 aan de bridge toegevoegd.)

# Maak bridge
brctl addbr bridge0 || exit 1
brctl addif bridge0 eth0 || exit 1
brctl addif bridge0 eth1 || exit 1


Stel voor de enkele bridge een IP adres in.

# Geef bridge ip
ifconfig bridge0 10.73.57.26 netmask 255.255.255.0 || exit 1
route add default gw 10.73.57.1 bridge0 || exit 1


Verplaats /etc/network/network.up.bridge naar /etc/network/network.up om de configuratie actief te maken.
Zorg eventueel dat de bestanden /etc/network/adaptor.conf en /etc/network/gateway.conf geen conflicteerende netwerk instellingen hebben(bijvoorbeeld hetzelfde IP adres).
Reboot de machine de machine is hierna als bridge geconfigureerd.
Syn-3 firewall laat standaard geen verkeer toe van de ene naar de andere bridge poort.Dit moet geconfigureerd worden in de Syn-3 Firewall.
In de volgende afbeelding ziet u een voorbeeld hoe poort 80 toegelaten word door de bridge. Zodat verkeer van eth0 naar de webserver mag, die achter eth1 draait. Zo'n soort configuratie noemen we een transparante firewall...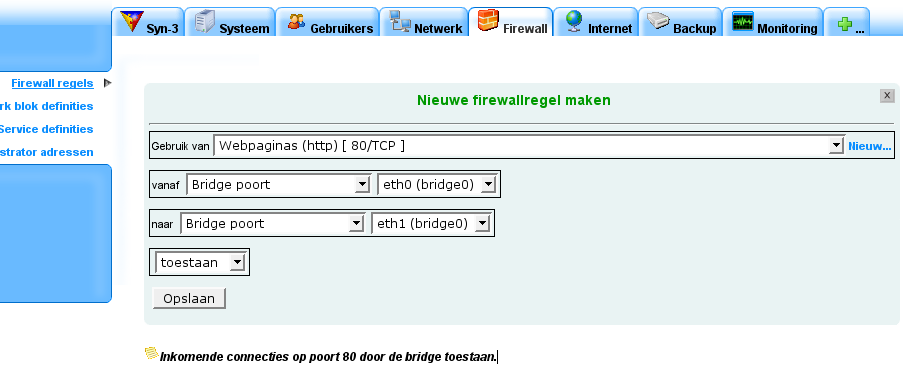 De netwerk kaarten (zones) die u in de Bridge gebruikt hebben geen betekenis meer in de firewall. Zorg dat u dus firewalled op IP adres, of op bridge poort, maar niet op Zone Lan of Zone Internet.
Attachments
(1)
Download all attachments as: .zip